This is the third post in a series written by my husband, TJ, about our house flood experience.
---
This is a multi-part series of how Ashley and I are thankful that we had excellent insurance coverage (from Nationwide).  Water does a lot of damage!  To catch up, read Part 1 and Part 2 before continuing with this post.
As I left off in Part 2, we were put in this situation whether we liked it or not, so we started to make lists of upgrades, get pricing, then rank them.  For example, while the house was gutted, it made the most sense to add Ethernet connections in the other rooms now (as long as the price wasn't extreme) – it would be the cheapest time to do it now.  A tip for those of you who ever do get in a situation like this, it really is a great time to do upgrades that have been on your mind.  For example, we wanted taller base boards throughout the house.  Since they had been ripped out by our demolition team, Nationwide was reimbursing us for the base boards – as well as installation and paint for them.  I can't remember the exact numbers, but say it was $1.40 per linear foot to replace the base boards to what we had, the standard 3 1/4″.  Well, to get 5 1/4″ base boards was an extra 7 cents per linear foot, totally worth it.  We were only on the hook for the additional cost above what Nationwide covered.
While we were going through our "list of wants", we were also in the process of moving to an apartment closer to our townhouse.  Nationwide put us in touch with a relocation company, Klein & Co, where their associate, Christina, took a lot of the pain out for us.  They found 2 apartments really quick, and coordinated with them on the paperwork and setting up the time for us to go sign them, our move in and move out dates.  The apartment was Legacy at Wakefield, and the staff themselves were a little difficult to work with, partially, I think, because the management had just changed hands.  It took about a week of back and forth conversations to actually get a date to move in – we also had to pass an application process – which I didn't understand, Nationwide was paying the bill, not us.  Another complexity to this whole situation is we don't have traditional jobs, and have inconsistent income.  The apartment finally settled on us providing our 2013 tax return and "approved" us.  We received some invoice about a pet fee that wasn't paid (or invoiced), but when we brought it up to them, they said it was a mistake.  We just really felt they didn't have an understanding of what they were doing, nor did they check (and definitely not double-check) their work.  One lady in the office was superb and just about made up for the others whose service slacked.  They were all nice, however, it was much nicer not having to deal with them after we moved in.  Another thing the placement company did was coordinate furniture, and they really thought of everything, down to shampoo and conditioner.  A week later they also sent a welcome package with a strainer, some cans of food and pasta – very thoughtful!
Sidenote: The sunroom, the room with french doors leading to it, is where my wife started Ashley Nevis Prints!
The apartment had some challenges, setting up water and electric, getting equipment for Time Warner Cable, etc.  Overall, it wasn't too bad of a transition – I really thought the cats would be super miserable moving around so much, but we found out that they are more laid back than we thought and as long as we're around, they'll be happy.  By the time we got settled into the apartment, it was perfect timing for us to be able to head over to the house and check on progress every couple of days.  Not to say that I was a micro-manager or anything, but I pointed out some things, answered some questions, Ashley made cookies for the guys twice, and just seeing the progress of the rebuild.
Things started slightly delayed, because someone at Builder Services didn't pass on to the build back team that we were going to use them for the construction.  I had to follow up a week or so after not hearing anything.  A few days after that, we met with Lee James, and he took measurements, our wish list, and began to write up some estimates.  Once we approved parts of it – they got started.  Some of our wish list needed to be researched further by them for an accurate estimate, but didn't pose an issue upon starting the construction.  I met our Project Manager for the build back, Ernie – who was my favorite person to work with.  He was nice, laid back, funny, and overall he did a pretty good job getting the work done when he said he would.  There are definitely a lot of people up to this point that we've talked to and met!
First things first, the recessed lighting was put in, wired to the switch and the fuse box.  The walls were put up, mudded, sanded, and painted with the one of the four colors we settled on.  We chose 3 shades of gray, and a brown.  The rooms upstairs we kept the same colors and they matched them perfectly.  For those of you who may be doing a project yourself and don't want to paint the whole room or wall again, Sherwin Williams matches paint with absolute accuracy.  Since we've been back in the house, I saw on an HGTV show where they used Sherwin Williams to match paint as well.  It's probably something the pros always do, but I would definitely recommend them for a personal project as well.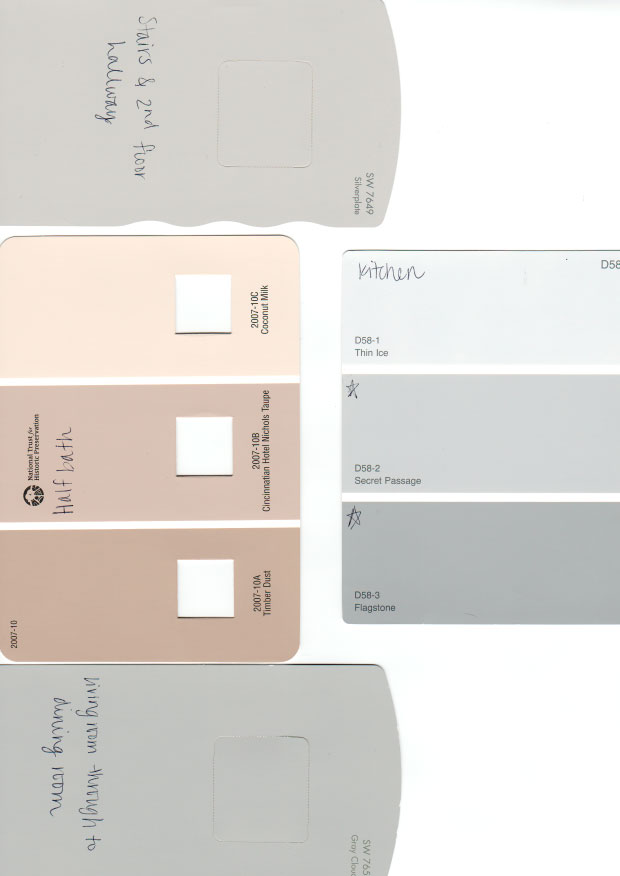 This all happened really quick once they started, maybe 2 weeks.  The frustrating part was it stayed like this for about a month.  The first set back was "snowmageddon 2015".  It's kind of comical, especially being from upstate NY, but in Raleigh, they not only shut down the city when there's less than a half an inch of snow, but they start preparing and shutting things down days in advance.  In this case we got a few inches, more than they expected, I think, and it took about 3 days for the roads to get to a safely drivable condition.  Raleigh doesn't have snow plows like NY, so even though the highway was clear, roads up to it were pretty bad with slush and ice.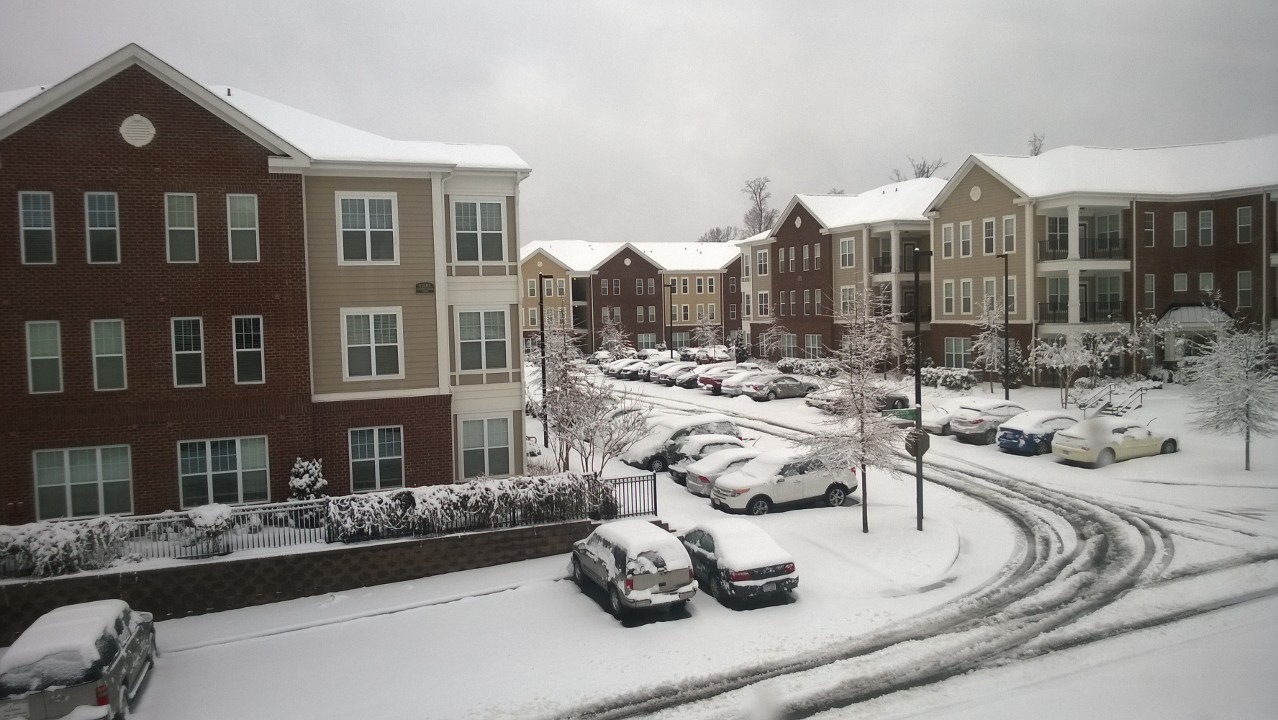 The other set back was getting money – isn' it always about money?  This was frustrating because Builder Services stopped doing work, didn't tell us what was going on, and pretty much wouldn't even answer our questions.  I feel they should have had more of a streamlined process – I mean I get they need money to do the work, but Nationwide had already agreed to pay, they did pay, but we were waiting for our mortgage company to authorize the payment, or whatever the process was.  In our case, our mortgage company, Fifth Third Bank, requires payments to go through them when the damage is above $10k.  I understand, they have an interest in the property since they legally own the house at this point, we're just making payments for the next lifetime =).  Builder Services was guaranteed their money, but stopped work for something that was out of our control, I feel that could have been handled better, but who knows, maybe their cashflow is really low and they couldn't front the money to the sub-contractors.
We met with Troy Jones with Floors and More, and gave him details of what we were looking for in terms of the wood floor downstairs and the carpet upstairs.  He worked hard with distributors to get us what we were looking for.
Once the check was through the process with Fifth Third, I gave it to Ernie and started to put a little pressure on the situation.  We were closing in on 3 months and we already extended the apartment lease by 3 weeks.  We were homesick, excited about the changes, and just plain ready to be back home in our comfy bed.
Ernie scheduled the vanities to be put in, Troy and his team to put the floors down, the electrician to come back to put in the light fixtures and ceiling fan, and Martin and his team to do the finishing touches with the paint and trim.  I was really fond of the idea of having the base boards downstairs with no shoe molding.  When the base boards were in, there were some small gaps along the wall and floor – which is typical – and what really made everything look, honestly pretty bad with the gaps, to an amazing, polished, high quality look, was just some inexpensive white caulk.
We're almost done with this series!  It's been a blast telling it, though long!  Although no where near as long as living through it.  Throughout all of this, one of our cats, Owen, as I mentioned in Part 1, was having some digestion issues.  Add that on top of all of this stress – looking back, I feel we handled it pretty well, but it was super stressful!  I'll call out Owen's story in another post, along with his treatment, as it could be helpful for those of you who have pets going through something similar.